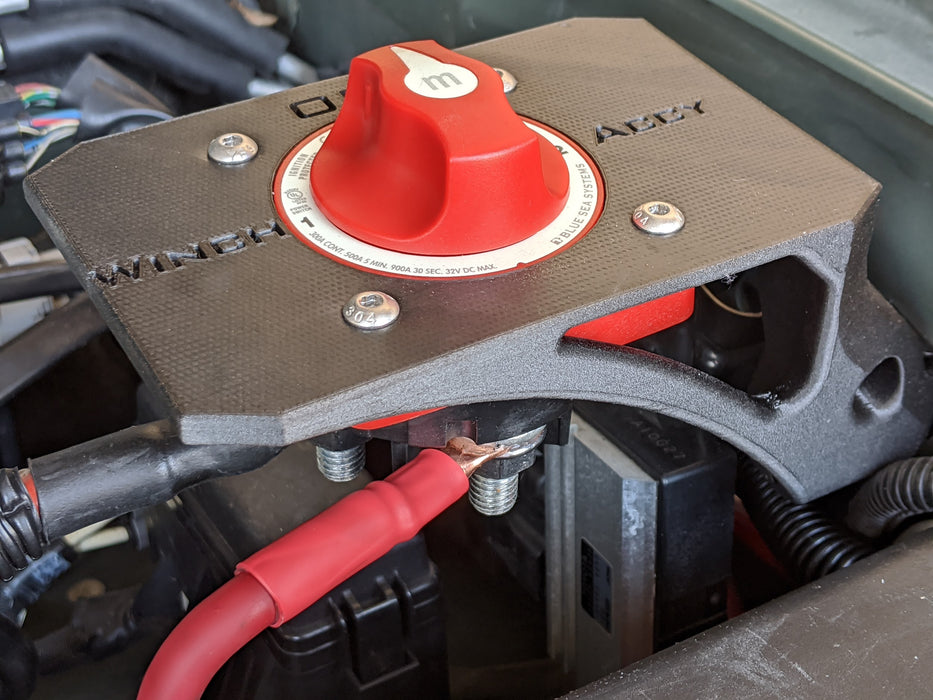 Battery Switch Bracket for 06-07 Land Cruiser and 06-07 LX470
This bracket is made for the Blue Sea m-series Battery Switch.  It mounts over top of the Air Injection Driver bracket just rear of the fuse box on the driver's side of the engine bay.
Fuse box access is maintained.
Included:
Battery Bracket printed in Onyx material (chopped carbon fiber and nylon with fiberglass reinforcement)
Qty 2 JIS spec M8 bolts
Qty 4 Stainless Socket 10-32 Head Cap screws to mount switch (wrench size is 1/8")
Qty 4 10-32 nuts
Battery switch is not included, but here is an Amazon link to the switch: https://amzn.to/3bOpQjr

Custom text is optional at each direction of the switch. Keep it under 5 characters per position to ensure everything fits on the face.
Position 1 is 12 o'clock
Position 2 is 3 o'clock
Position 3 is 6 o'clock
Position 4 is 9 o'clock
Due to the custom nature of this product everything is made to order. Lead time is approximately 2 weeks. ALL SALES OF CUSTOM TEXT BRACKETS ARE FINAL.
Don't be a fool and take the equipment used with this bracket seriously. In other words: Due to the potential hazard involved with electrical wiring the BUYER ASSUMES ALL RESPONSIBILITY FOR WIRING SAFETY, BRACKET SUITABILITY FOR FINAL INSTALLATION AND PRODUCT STRENGTH. YOUR PURCHASE OF THIS PRODUCT IS AN ACKNOWLEDGEMENT THAT YOTAMD, LLC SHALL NOT BE HELD RESPONSIBLE FOR ANY INJURY, DEATH, PROPERTY DAMAGE OR OTHERWISE UNINTENDED CONSEQUENCE SUSTAINED AS A RESULT OF THE USE OF THIS PRODUCT.